Welcome to Minnesota Maple Syrup Producers' Association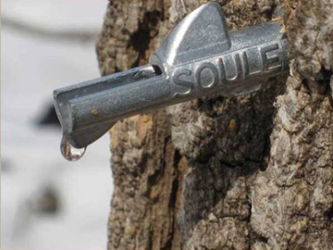 The Minnesota Maple Syrup Producers' Association, Inc. (MMSPA) is a non-profit membership organization serving people involved in the production, processing and marketing of pure maple syrup produced in Minnesota.

We are committed to the promotion of high quality maple syrup through education and information exchange. We welcome hobbyists and commercial/licensed producers alike.

Pure maple syrup is one of nature's sweetest gifts. Boiling down the sap of the maple tree makes pure maple syrup. Pure maple syrup is produced in the northern United States and Canada during the early spring months. Minnesota is one of the seventeen states and three provinces that produce pure maple syrup on a commercial scale.

Pure maple syrup is a "natural" food that contains nothing artificial, no additives, no colorings, or preservatives. The main sugar in pure maple syrup is sucrose. Small amounts of fructose and glucose are found in the darker grades of syrup.
September 29, 2018: The fall meeting of the MMSPA was held in the St. Joseph/St. Cloud area at Saint John's University, Collegeville MN. See the Events page for details.
October 26-29, 2018: The New Hampshire Maple Producers Association hosted the NAMSC/IMSI conference in Concord, NH, at the Grappone Conference Center. Besides the business meetings, this conference provided updates on the latest inventions, research and news. It also included a variety of outstanding technical educational sessions.
October 21-24, 2019: "Celebrating Superior Sweetness" 2019 NAMSC / IMSI Mtg, hosted by MMSPA, in Duluth, Minnesota

NAMSC and IMSI Annual Convention
Duluth MN, Oct 21-24, 2019

Make plans to join us!